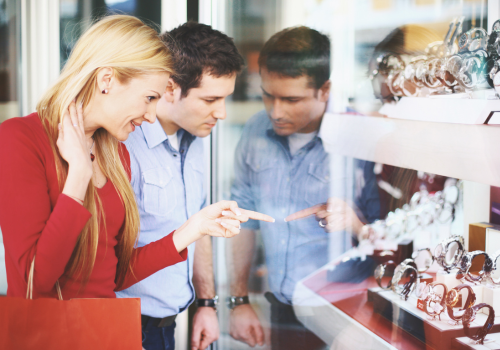 As a jewelry store owner, you understand the importance of offering customers peace of mind regarding their most treasured possessions. Jewelry is more than just an accessory or gift. It can be a family heirloom, an investment, or a symbol of love and commitment. 
Unfortunately, accidents, theft, and other unforeseen events can happen, leaving customers devastated and needing protection. The JM Care Plan is a jewelry warranty program that can provide comprehensive and flexible insurance for jewelry and watches. This program is backed by Jewelers Mutual Insurance Company, which has been a leader in the industry for over a century.
What is the JM Care Plan?
The JM Care Plan is a jewelry warranty program plan that covers your customers' jewelry and watches from normal wear while keeping each piece looking brand new. It also protects one's possessions against accidental damage.
Individuals can easily purchase the plan through jewelry stores like yours, and here's why you want to carry it. 
Why Offer the JM Care Plan?
One of the main advantages of the JM Care Plan is that it can set your store apart from the competition. Many customers may not be aware that insurance for jewelry and watches is available, or they may not understand the benefits and costs involved. 
By offering the JM Care Plan, you can show your customers that you care about their jewelry and are willing to go the extra mile to protect it. This can increase customer loyalty and attract new customers to your business.
Why Your Customers Will Appreciate the JM Care Plan
When customers know that you are looking out for their best interests, they are more likely to return to your store for future purchases and recommend your store to their friends and family. The JM Care Plan offers a range of benefits and services that can give your customers peace of mind, such as:
Worldwide coverage:

Provides coverage for loss, theft, damage, and mysterious disappearance of jewelry, whether it happens at home or while traveling.

Easy claims process:

Customers can file a claim online or by phone and get their jewelry repaired, replaced, or reimbursed as soon as possible.

Flexible coverage:

Allows customers to choose the level of coverage that suits their needs and budget, whether it's a single item, a collection, or an entire jewelry box.

Expert support:

Backed by a team of jewelry insurance specialists who understand the industry and can provide personalized advice and assistance to customers.
By offering these benefits to your customers, you can demonstrate your commitment to providing the best possible service and protection for their jewelry. This can lead to increased customer satisfaction, retention, and referrals, which can ultimately benefit your business's bottom line.
How Does the JM Care Plan Affect My Jewelry Business's Bottom Line?
Clearly, the JM Care Plan provides many benefits for your customers, but what's in it for you?
In addition to increasing customer loyalty, the JM Care Plan can increase your revenue. When you offer the plan to your customers, you earn revenue on each plan sold. This can be a great way to add an additional revenue stream to your business while also providing your customers with valuable insurance for jewelry and watches. 
Furthermore, offering the JM Care Plan can help you upsell and cross-sell other products and services, such as appraisals, repairs, and custom designs. By showing your customers that you can provide a one-stop shop for all their jewelry needs, you can differentiate yourself from other retailers offering only basic products and services.
Moreover, the JM Care Plan can help you mitigate risks and liabilities as a jewelry store owner. When you offer the plan to your customers, you can reduce the likelihood of disputes, chargebacks, or negative reviews related to damaged or lost jewelry. By providing customers with a reliable and reputable insurance provider, you can avoid potential legal issues. 
How Easy Is It to Integrate the JM Care Plan into My Already Existing Sales Process?
The JM Care Plan is incredibly easy to integrate into your sales process. 
You can offer the plan as a standalone product or bundle it with other items, such as engagement rings, wedding bands, or watches. You can promote the plan through your website, social media channels, or in-store displays and provide customers with brochures, flyers, and videos that explain the benefits and features of the plan. By educating your customers about the value of warranty plans for jewelry and watches and how they can protect their investments, you can create a sense of urgency and trust that can lead to more sales and referrals.
In conclusion, offering the JM Care Plan to your customers is a smart business move for any jewelry store owner. Not only can it elevate your customer's experience and loyalty, but it can also help grow your business and bottom line. By providing your clients with valuable insurance coverage through the JM Care Plan, you can show that you care about their jewelry and are committed to providing the best possible service. 
At the Jewelers Insurance Marketplace Agency (JIMA), we represent multiple insurance companies and offer unique programs to grow your business and build customer loyalty. Our comprehensive programs help you identify and troubleshoot potential issues that could result in claims. Contact us today to learn more about the jewelry insurance offerings we have available.